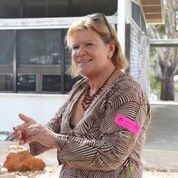 During her 2018 residency, Wadjuk Nyoongar woman and artist Sharyn Egan engaged with CJ's staff and students, supporting them in the development of new work and curriculum. Students worked on an Australian botanical theme and colour theory during Sharyn's residency, primarily exploring the mediums of print making, drawing and ceramics. 
Sharyn took part in a valuable afternoon presentation in the Jacaranda Theatre to the students and CJSC community members, together with Whadjuk Nyoongar elders Mort and Vivienne Hansen, speaking about culture, traditions, protocols and personal experiences as First Nations people.
Mort emphasized the need for greater recognition of Indigenous history and knowledge, calling on teachers and schools to be aware of their  opportunity to shape the next generation. Sharyn presented slides of her work, and discussed how her practice tells the story of her family, and her connection to her Nyoongar heritage. Afterwards, across the campus at the ArtsHouse building and community garden, Viv officially opened the newly planted Bush Medicine Garden and led a workshop focused on edible and medicinal Indigenous plants.
To document the residency program and partnership, Artsource sent WA artist and writer Elizabeth Pedler to capture the day and the essence of the ArtsHouse project. Her full article, "Re-invigorating the residency model: ArtsHouse at Cyril Jackson Senior Campus", can be found online at Artsource. After this introduction, Elizabeth successfully applied to become a future AiR!
At the culmination of her residency Sharyn worked together with ArtsHouse staff to develop and deliver professional development in the area of the Aboriginal Cultural Framework to teachers in the region. This workshop was a huge success, with participants discussing the complexities of Aboriginal art making, and then engaging in a hands-on session exploring the use of balga resin as a medium for painting and printmaking.
The professional development session was collaboratively delivered with ArtsHouse Community Garden, with an open invitation to the wider Bassendean community to engage with another of Viv and Mort's demonstrations of the uses of native botanicals, and also experience tastings of indigenous ingredients provided by Dale and Lyall Tillbrook of Maalinup Gallery in the Swan Valley. The event attracted over one thousand interested attendees from the local and broader communities!
For further insight into Sharyn's practice and career to date, check out Artsource's feature on Sharyn's previous work for Sculptures by the Sea.