On Friday 8th March, Nowah Moore and Noga Pisk from Year 11 at CJ attended the Zonta International Women's Day Breakfast at Wembley Golf Club. They were accompanied by IEC Deputy Principal Ela Amor-Robertson.
This event provided a fantastic opportunity to learn about issues affecting women all over the world and to hear about some important initiatives that are helping to empower women in places where they are not given equal rights to men.
The breakfast was organised by Zonta International, a worldwide service organisation of over 30,000 members. Zonta is committed to championing equal human rights, access to resources and freedom from violence for women all over the world. They strive to improve the legal, political, economic, educational, health and professional status of women at the global and local level through service and advocacy.
Zonta International is involved in service programs all over the world with aims such as:
 Creating an HIV free generation in Rwanda
 Eliminating Obstetric Fistula in Liberia
 Creating gender responsive schools in Vietnam
 Organising the Voices Against Violence program in partnership with Girl Guides and Girl Scouts groups worldwide
 Delaying early marriage in Niger
 Providing education scholarships for women all over the world; they even sponsor two scholarships for Year 11 students at CJ each year!
On this excursion, Nowah, Noga and Ela enjoyed a scrumptious breakfast and met many interesting and influential people such as Dr Luc Mulimbalimba Masururu, the Director of MHCD (Mission in Health Care and Development in the Democratic Republic of Congo). They also enjoyed a touching and inspirational speech from Guest Speaker Amy Carter-James, the founder and trustee of the Nema foundation. Nema is a UK registered charity working in the district of Macomia, Mozambique, with 16 communities to improve access to education, safe drinking water, healthcare, food security and jobs. 'Nema' is a beautiful local word meaning 'the joy felt when suffering ends' – a concept that resonated strongly with the audience. Amy is an amazing woman, who also recently founded a luxury tourist eco-lodge in Mozambique which provides employment for many local people and raises vital funds to support Nema's other programs.
Nowah, Noga and Ela thoroughly enjoyed their experience at the International Women's Day breakfast and would like to thank the Cyril Jackson Senior Campus branch of the WA State School Teacher's Union for funding and organising this excursion. The participants came away with a deeper understanding of the importance of International Women's Day as a day to celebrate women and value the impact they are making in the world. We learnt a lot about organisations such as the Nema foundation and developed a great respect for the role they play in empowering women. Organisations like this are vital in increasing gender equality in places where women are often subjugated. It is essential that initiatives like this exist to help women access education and work opportunities, give them a chance to contribute to their community, and allow women to have a voice in the society in which they live.
Did you know?
 70% of people in the world who live in extreme poverty are women and girls.
 60% of the world's illiterate are women.
 Globally, women earn 24% less than men.
 1 in 3 women experience physical or sexual violence.
 According to the Australian Human Rights Commission, it is estimated that violence against women and children will cost the Australian economy $15.6 billion per year by 2021-2022 unless decisive action is taken to prevent it.
 More than smoking or obesity, domestic and family violence is the leading preventable cause of death, disability and illness in women aged 15 to 44 years.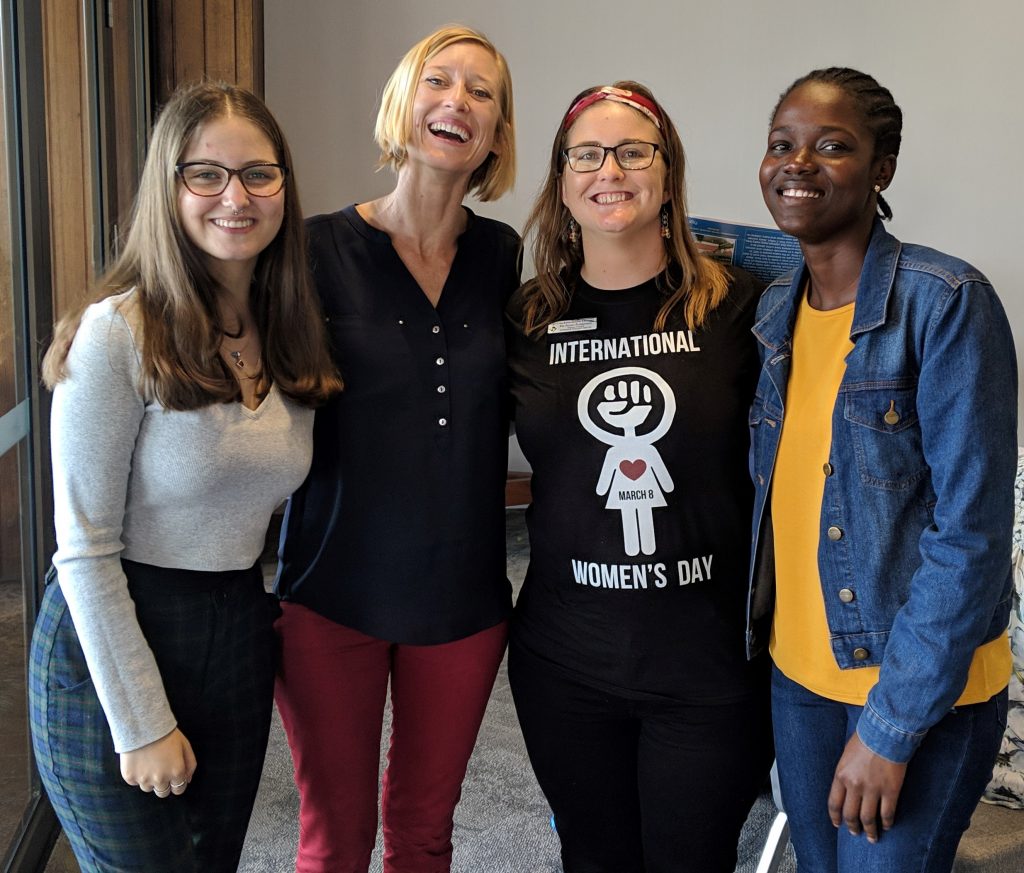 Guest speaker, Amy Carter-James (second from left) with CJ students Noga Pisk and Nowah Moore and IEC Deputy Principal, Ela Amor-Robertson