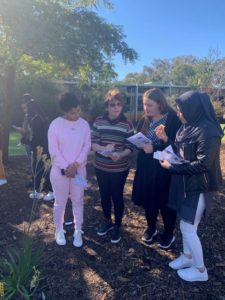 The Community Services endorsed course applied for and received a grant of $500 through the Planet Ark Seedling Bank. Our project was to plant a native bird-attracting garden at CJ, to provide a safe habitat and food source for native birds like pink & grey galahs and to showcase our beautiful native, water-wise plants for students and teachers to enjoy.
We completed the planting last week and we welcomed IEC students and teachers the next day with home-made orange cake and a tour.  It was a really wonderful experience for everyone involved from learning about:
the grant application process
what National Tree Day is and Planet Ark
benefits of trees to people & the planet
benefits of water-wise natives
selecting natives
how to attract birds into a garden
types of native birds
measuring and designing a garden
how to plant native seedlings
Special thanks to Craig, our gardener for his expertise and Belinda for her support with the project.